From the Indonesian Rainforest to Your Door
Since 2013, Kratora has been providing customers from around the world with naturally-sourced, high-quality botanical products. From the moment of harvest in the rainforests of Southeast Asia to packaging and order dispatch at our US office, we're proud to offer an online shopping experience that embodies our standards of excellence every step of the way.
Why Kratora?
There are a lot of kratom vendors out there. But how do you choose the right one? Since kratom is still largely unregulated in the U.S., you have to be careful about where you shop. Not all kratom sellers offer high-quality products, and there's a lot of false and misleading advertising. If you want the best product, you need to find the best provider.
We've created this short video to help you better understand what to look out for when buying kratom. For instance, if a product isn't tested for quality and safety by a third-party laboratory, it's not worth your money. There are also standards in place for sourcing products ethically and ensuring that quality is maintained throughout the entire product cycle, from the original harvest to the final shipment to your door.
Watch the video to get the full breakdown, and discover how Kratora goes above and beyond industry standards to deliver not only the best kratom but also the best customer service experience in the U.S. We've been in business since 2013, and our reputation is unrivaled.
Our Commitment to High-Quality Kratom
We've devoted ourselves to becoming the premier online destination for buying kratom online. Today, our inventory has expanded to include liquid kratom, kratom capsules, kratom gummies and many other remarkable botanicals including an incredible list of organic, kratom alternatives.
At Kratora, we travel the world to find the best kratom and other natural ethnobotanicals available. We don't just import our products from unreliable vendors; instead, we work closely with local communities to develop sustainable, organic harvest plans that protect the environment and ensure our customers' safety.
Since 2013, we have worked with small, local villages throughout Indonesia to grow, harvest, and distribute the very best natural kratom available. These communities and the incredibly rich natural environment that surrounds them are the reasons why Kratora is able to source high-quality kratom to the USA.
Working with local villages in Indonesia, we began a partnership that encouraged the local people to grow and harvest kratom seedlings in their own backyards. Through this partnership, locals were able to transform a plentiful resource into a thriving, local economy while we at Kratora were able to gain fresh, all-natural kratom straight from the source.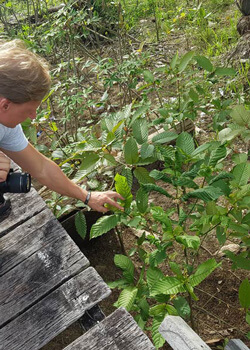 In places where kratom is already plentiful in the jungle, our harvesters handpick the high-quality kratom leaves by hand, selecting the leaves by color and age. In other villages, locals grow the trees to the size of small seedlings and then plant them in a suitable place. In both of these cases, the Mitragyna speciosa (or kratom) plants that we harvest from are able to thrive without the use of fertilizers or pesticides nourished, instead, by the naturally rich fertilizer of the rainforest's lush river banks and forest floors.
Through this unique collaboration, our team is able to procure the best, organic kratom available while the communities we work with are able to earn a sustainable income. From handpicking each kratom leaf and supervising the shipping process to carefully inspecting and packaging each batch of kratom, the Kratora team works hard to ensure every step of our process is safe, reliable, and results in the best product for you.
No matter your preferred strain, we always promise that our kratom products are:
Organic and All-Natural
Freshly Packaged and Securely Sealed
Ultra-Fine Ground
Devoted to Providing Outstanding Customer Service
At Kratora, we care about our customers. Alongside our high-quality, reliably-sourced botanical products, we strive to provide our customers with a comprehensive, supportive, and enjoyable shopping experience.
In order to go above and beyond for our customers, we offer:
Fast, Affordable Domestic and International Shipping
A Comprehensive Kratora Rewards Program
Same-day shipping on orders submitted before 3 PM EST Monday through Friday and 1 PM EST on Saturdays (excluding holidays).
Accessible & Friendly Customer Service
Free Priority Shipping on all US Orders Over $75
Free Returns & Full 30-Day Refund Guarantee
Place Your Order Today & Discover the Kratora Difference
At Kratora, we're thrilled to provide our customers with fresh, natural botanicals from around the world. Through our firm commitment to exceptional product quality, upstanding customer service, and an extensive product selection, we hope to share nature's gifts with the world in a truly exemplary fashion.
Ready to experience the Kratora difference? Place your order with us today before 3 PM Monday through Friday, or before 1 PM EST on Saturdays (excluding holidays), and we'll ship your purchase that same day!
Customer Service Address (please use this address to mail us your returns)
Kratora LLC
1141 Catalina Dr. #106
Livermore, CA 94550
Attn: Returns
Corporate Office Address (please do not use this address to mail anything to us)
Kratora LLC
2300 McDermott Road Suite # 200-354
Plano TX 75025
Please note that the US FDA has not approved kratom to be sold for human consumption, sold for external use only. None of the products sold on our website are intended to diagnose, treat, cure, or prevent any disease or medical condition.