Cryptocurrency User Manual
Digital currencies, like Bitcoin, have been taking over eCommerce platforms in recent years, offering an independent and secure way to buy and sell goods. Due to the internet-based nature of cryptocurrency, adding this payment option to our billing methods actually helps save money on expensive card provider fees, which we can then pass on to you and your purchase! Read on to learn how to use this method for buying our fresh kratom, kratom alternatives.
1. Purchase Cryptocurrency
Buying Bitcoin or other cryptocurrencies is easy and can be done using your card or via online bank transfer. Using the platform Coinbase, you simply create an account, verify your identity (you will need a valid phone number for this), and start buying Bitcoin/other cryptocurrencies. While there are several cryptocurrency providers out there, using a platform like Coinbase can be especially convenient as their service includes a digital wallet for use across multiple websites and across multiple cryptocurrencies (including Bitcoin, Dai, Ethereum, etc.)
Kratora also accepts other forms of cryptocurrency, including:
Bitcoin Cash
Dai
Ethereum
Litecoin
USD Coin
2. Install a Cryptocurrency Payment App
Once you've purchased Bitcoin or your choice of cryptocurrency, you're ready to start buying your favorite kratom strains! To do this, you'll need to install a virtual wallet of your choice. Coinbase will work with almost all virtual wallets, though Coinbase does have its own Coinbase Wallet app for mobile devices.
3. Select Coinbase as Your Payment Option
Now that you are all set up, it's time to place your first order! Add your favorite kratom powder, or ethnobotanical product to your cart and then select "Coinbase — Pay with cryptocurrency" as your payment option, and hit "PROCEED TO COINBASE."
You will then be directed to the following screen.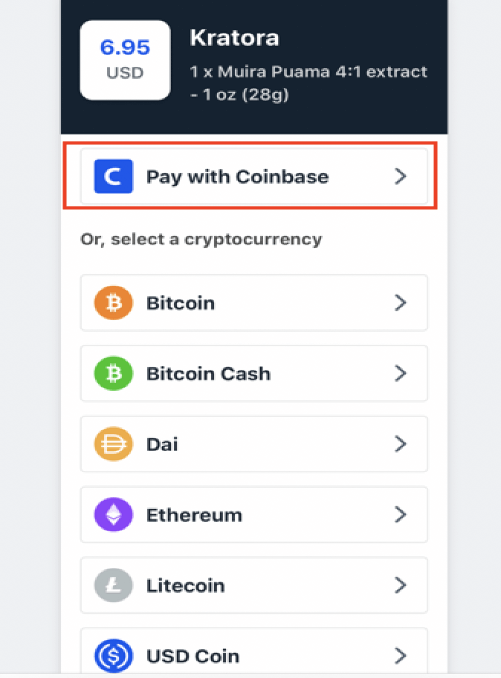 If you choose to pay through Coinbase, you will see the below screen. In most cases, your device should automatically redirect to the Coinbase site. However, if you are not immediately directed to the Coinbase landing page, please click the "If the popup has not loaded, click here" option.
You will now be prompted to log into your Coinbase account. If you previously selected a 2-step verification process, you will need to follow the prompted instructions and enter the 6-digit code sent to your mobile device. Otherwise, you will be directed to an order confirmation screen (like the one seen below) to review and confirm your order and payment method.
Confirm your payment by hitting the "Next" button (and by entering your 6-digit, 2-step verification confirmation code, if chosen) to receive the below notification.
We will then confirm your order and send your products straight to your house!
4. Non-Coinbase Payment Option
When you select "Coinbase — Pay with cryptocurrency" as your payment method, you will be guided to the following screen. If you do not have a Coinbase wallet, here you can select the option, "Select a Cryptocurrency." For this option to work, you will need an alternative cryptocurrency wallet that allows you to transfer funds to Kratora. Select the currency of your choice. You will then be led to a screen where you will be prompted to send your funds to the wallet address provided.
For example, if you choose to pay with Ethereum, you will be directed to the following screen:
Once you have made your selection in cryptocurrency, Coinbase will then direct you to a screen that shows you the amount that you will need to pay and the address that you will need to send your funds to. After transferring the necessary funds to your cryptocurrency wallet and sending it to the address provided, you will be able to proceed with payment, and complete your order!
Multiply Your Savings
Because cryptocurrency purchases save on fees, Kratora will give you a 5% discount on every order paid with cryptocurrency. Not only that, but you can also apply your rewards points for savings on future orders, and you can receive two free samples in every order by leaving a note in your order comments! You'll still get the full number of rewards points for all of the products purchased with cryptocurrency.
Shop Kratora and start saving on products today!