Incense burning is a ritual embraced by cultures throughout the West and East. Join us as we explore the possibilities for enjoying kratom incense at home and learn how to make kratom incense with our step-by-step instructions.
Kratom Incense Basics: What is Incense and Why Do People Use It?
Incense-burning involves preparing any dried plant matter to burn slowly so that it releases the plant's fragrance gradually over time. The practice has been around since the times of Ancient Egypt when it was used to please the gods. It is still regularly used today in homes and in spiritual and religious settings such as churches, temples, and yoga studios.
What are the Benefits and Risks of Using Kratom Incense?
If you're considering making incense, you may be wondering how to make kratom incense and whether or not it is safe for your home. For the kratom enthusiast, preparing and burning kratom incense is just one of the ways that you can enjoy your kratom, and it can offer stimulating and relaxing effects depending on the strain and amount used. 
Incense-burning in itself does come with some safety risks, which you need to be aware of before you begin:
Indoor Air Pollution
Burning any kind of incense releases toxic gases into the air, including carbon monoxide, sulfur dioxide, and formaldehyde. These gases (and the smell of incense) can be especially harmful to pets and children—so it's essential that you only burn incense when there are no animals or children present. 
To reduce the chance of lung inflammation and respiratory damage from the use of kratom incense, open a few windows to allow fresh air to circulate while you burn your incense and use only organic incense sticks or cones with no fillers or additives.
Fire Hazard
The other main danger when using incense is the chance of embers settling around the room, or the incense burner tipping over and catching alight. To prevent your peaceful incense experience from starting a house fire, keep your incense burner well away from curtains and clear the area of anything that could burn before you start. It's also a good idea to have a bucket of water or a fire extinguisher handy in case anything does go wrong. Never leave your kratom incense unattended while in use and extinguish the burning incense stick with water at the end of every session.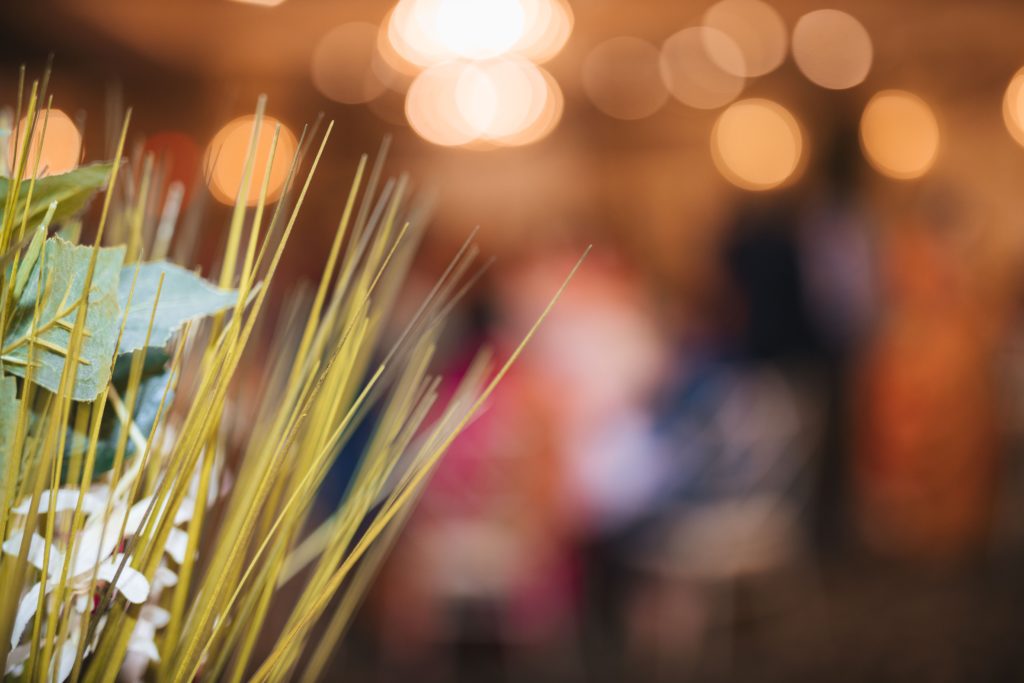 How to Make Kratom Incense: A Step-by-Step Guide
Are you ready to get into the nitty-gritty of how kratom incense is made? Let's dive into a few key tools and ingredients that are used in the process!
Two Types of Incense
The most basic incense preparations in cultures around the world simply involve tying up a bundle of herbs with a piece of string, hanging the bundle upside-down to dry, lighting the tip on fire, and blowing it out to produce smoke that can be waved around the area to be blessed or cleared of negative energy.
In modern times, incenses tend to be sold in the form of sticks or cones that burn directly Direct-Burning Incense), or as a powder that requires a constant heat source to keep it lit (Indirect-Burning Incense). In our guide about how to make kratom incense, we will focus on preparing direct-burning incense using kratom powder and dried herbs.
Fragrant Herbs
If you've ever opened a packet of kratom, you'll realize that this potent herb does not exactly smell like roses! To make your kratom incense more pleasant, you'll need to add a few aromatic herbs to your blend. While you can add any plant material of your choice, popular options include:
Lemongrass

Lavender

Cedar

Sandalwood

Sage
Whichever herbs you choose for your incense blend, the total amount of plant material should come to about 1-2 tablespoons. We encourage you to make a note of the ingredients you use so that you can repeat or improve your recipe in the future.
Makko Powder
Besides dried herbs, one of the other ingredients that you'll need to make your kratom incense is Makko powder. This powder comes from the bark of the Tabu No Ki (Machillus thunbergii) tree and serves two important functions in the preparation of incense. The first function is to work as a combustible that keeps the mixture burning for a longer amount of time. The second function is to act as a binder to hold your dried incense mixture together once it's prepared.
How to Make Kratom Incense
Ok, now that we've covered the basics, it's time to get our hands dirty and prepare your kratom incense for use! You'll need to begin the process a few days ahead of time because the materials do take some time to dry out.
      1.Gather Your Ingredients
Depending on whether you prefer sticks or cones, you'll need:
Uncoated bamboo sticks

or

metal icing-bag cones 

Wax paper 

Mortar and pestle

Warmed, distilled water

Eye-dropper

½ teaspoon measure

1-2 tablespoons of dried herbs 

Makko powder
       2.Mix, Mold, and Dry
Begin your

kratom incense

preparation process by removing the stems of your dried herbs (if any) and placing them in the mortar. Grind your herbs together with your kratom into a fine powder. In general, one incense-stick should have 6 grams of kratom powder, but you can reduce or increase this quantity to find the amount that suits you.

Add the Makko powder, mix with the herbs, and add water with the eye-dropper until your mixture reaches a dough-like consistency.

Taking a ½ teaspoon of dough at a time, either roll the dough into long "snakes" to wind around the bamboo sticks or pack the mixture inside one of your metal cones to form a conical incense. 

Lay the sticks or conical mounds of dough on the wax paper and allow to dry for at least 12 hours, turning regularly to allow every part of the dough to dry.

When completely dry, place the

kratom incense

sticks or cones in an airtight container for storage.
      3.Light Up Your Incense and Enjoy the Aroma
To use your kratom incense, place an incense stick or cone in a heat-resistant bowl filled with sand. Light the tip of the stick or cone and blow out the flame so that the material continues to smolder. Open a few windows, sit back, and enjoy your hard work!
Ensure a Quality Burn with Kratora's Premium Kratom 
Now that you've learned how to make kratom incense, get started on your kratom incense adventure by purchasing our premium organic kratom and kratom alternatives today. Orders over $75 ship free to the United States, and orders submitted before 3 PM EST Monday through Friday and 1 PM EST on Saturdays (excluding holidays) will receive same-day shipping.
Please note that the US FDA has not approved kratom to be sold for human consumption, sold for external use only. None of the products sold on our website are intended to diagnose, treat, cure, or prevent any disease or medical condition.
Want to learn more about kratom quality and value? Start here:
Why Buying Cheap Kratom Can Be Dangerous