Among kratom users worldwide, white kratom strains have garnered a reputation for being some of the strongest and most stimulating types of kratom on the market. Offering a natural aroma that boosts energy and concentration, these varieties have become popular with students and professionals alike.
But when it comes to purchasing your first packet of white kratom, which is the best white kratom strain to try? Here are Kratora's five most popular strains of white kratom so that you can easily find the variety that's best for you.
Our Best White Kratom Strains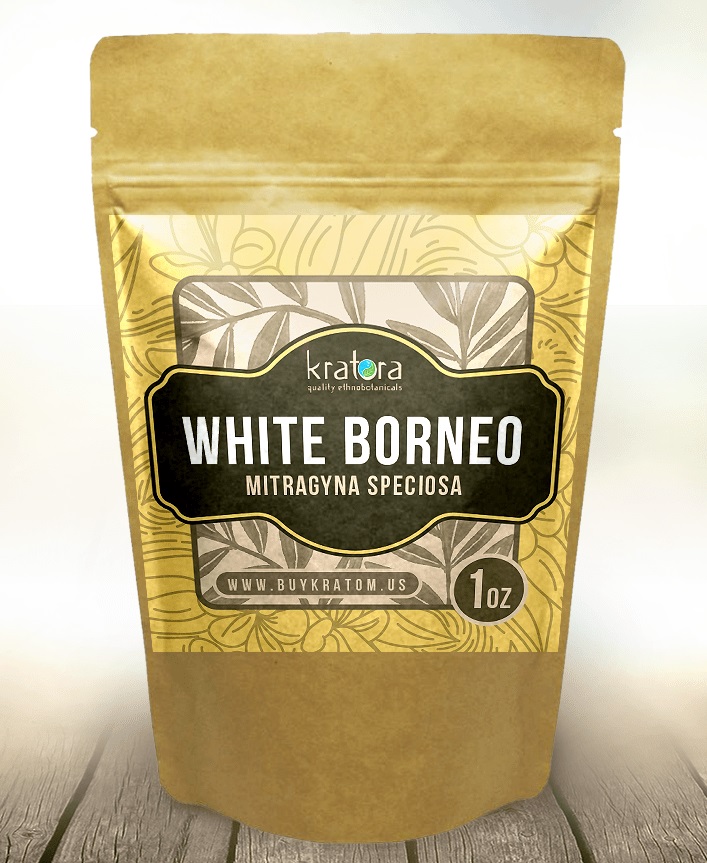 White Vein Borneo
Found growing in the wild in some of the world's most ancient rainforests, white-vein Borneo kratom is said to be the "poor man's Maeng Da" due to its strongly energizing aroma. Traditionally, white-vein Borneo kratom was used in shamanic circles to create a sensation of stimulation and euphoria. Today, it's aroma is used alone or mixed with Maeng Da to extend the user's reserves of the premium and more expensive Maeng Da kratom powder.
Users of white kratom strains from Borneo describe this variety as having a "high-energy aroma," a "morning strain," useful for starting the day with optimism, and an ideal choice for bringing on a feeling of peacefulness and productivity.
White Vein Maeng Da Kratom
Considered the most premium variety of the white kratom strains produced in Southeast Asia, white-vein Maeng Da kratom has become a huge hit with customers at Kratora and around the web. This variety (named after the Thai phrase meaning "pimp grade") is actually a mix of the leaves with the most potent alkaloids that our harvesters source deep within the jungles of Indonesia. To turn these fresh kratom leaves into the best white kratom, the leaves are dried indoors with little to no light before being powdered into a sugar-like consistency. The drying process creates the white color and strong potency with which we are all familiar.
As far as its aroma, the white vein Maeng Da variety sold at Kratora promises a long-lasting energetic aroma paired with a heightened mental clarity—making this an especially popular choice for students, accountants, and others who work in cerebral occupations.
White Vein Sumatra Kratom
The Indonesian island of Sumatra is home to another of our customers' favorite white kratom strains: The appropriately-named white-vein Sumatra kratom. Like white-vein Borneo kratom, white-vein Sumatra kratom is wild-harvested from deep within the jungle where the trees are protected by the complex forest ecosystem and nourished by volcanic soils. The white-vein Sumatra kratom that we sell at Kratora has been made from the mature leaves of the plant and finely ground before being packaged fresh for sale to our customers in the United States and abroad.
Users describe white-vein Sumatra kratom as having a stimulating and euphoric aroma while offering an impressive energy-boost—considering its relatively affordable price among white kratom strains! If you like white-vein Borneo kratom, you'll definitely want to give this strain a try!
Horned White Vein
Kratom lovers who enjoy the more stimulating kratom varieties will love the latest addition to our collection of the best white kratom: Horned white vein from the Kalimantan jungles of central Borneo. A naturally-occurring strain that is rarer than other varieties, horned white-vein kratom is recognized by its distinctive horn-shaped leaf and energizing aroma.
Contemporary users of white kratom strains describe the aroma of horned white-vein kratom as similar to Maeng Da—helping them to get up and going in the morning and be more productive at work.
White Leaf Variety Pack
Are you keen to try some white-vein kratom but not sure which is the best white kratom strain for you? Sample a little of each kind with our white leaf variety pack. Containing four packets with a net weight of 0.5 ounces each (approximately 14 grams), this pack includes the white kratom strains we've described in this article:
White Maeng Da
White Sumatra
White Borneo
Horned White Vein kratom
You can also request free samples of specific strains you want to try by leaving a comment at the checkout when you place an order!
There is Simply Nothing Like Kratom from Kratora
Founded in 2013, Kratora set out to become the foremost provider of premium kratom in the United States and around the world. Over the time we have been in business, customers have frequently commented that our white kratom strains—like all of our premium kratom powders and kratom alternatives—are consistently outstanding in their freshness, quality, and purity.
Discover why our customers say we have the best white kratom strains by reading the many five-star reviews on our website and enjoy super-fast shipping when you order a white-vein kratom strain or variety pack today!
Please note that the US FDA has not approved kratom to be sold for human consumption, sold for external use only. None of the products sold on our website are intended to diagnose, treat, cure, or prevent any disease or medical condition.
Want to learn more about kratom quality and value? Start here:
Why Buying Cheap Kratom Can Be Dangerous