Sumatra kratom is a type of Indonesian kratom with stimulating and energizing effects while also being calming. It grows almost exclusively on the Sumatran island and has more stimulatory alkaloids like mitragynine than most other kratom strains. That means that it can produce an energy boost from the caffeine-like effects of these alkaloids mixed with the sedative qualities of others to provide a sense of calmness and relaxation. 
This post will help you learn everything you need to know about Sumatra kratom and its effects and the different strains available. 
Origins of Sumatra Kratom
Sumatra, the sixth-largest island in the world, is home to Sumatra kratom. It is a popular kratom strain that comes from the primary plant, Mitragyna Speciosa, which grows on the island and in other parts of Southeast Asia. The warm and humid climate of the island is perfect for the growth of kratom. In most cases, the kratom trees that produce this ethnobotanical herb grow wild as part of the ancient rainforests, boasting a particularly high alkaloid content.
Locals have long used Sumatra kratom as traditional medicine and continue to enjoy its potent effects. It's grown in the coffee-growing lowlands of Sumatra, where it's produced through a combination of sustainable wild kratom harvesting and well-managed plantations. Local farmers harvest the kratom using methods they have learned from their ancestors over the years. By following ancient harvesting traditions, they're able to get the most potent leaves for the highest-quality result.
The Different Sumatra Kratom Strains
Like other types of kratom from other parts of Southeast Asia, Sumatra kratom is also available in various strains with different levels of potency and effects. These include: 
Red Vein Sumatra Kratom

Green Vein Sumatra Kratom

White Vein Sumatra Kratom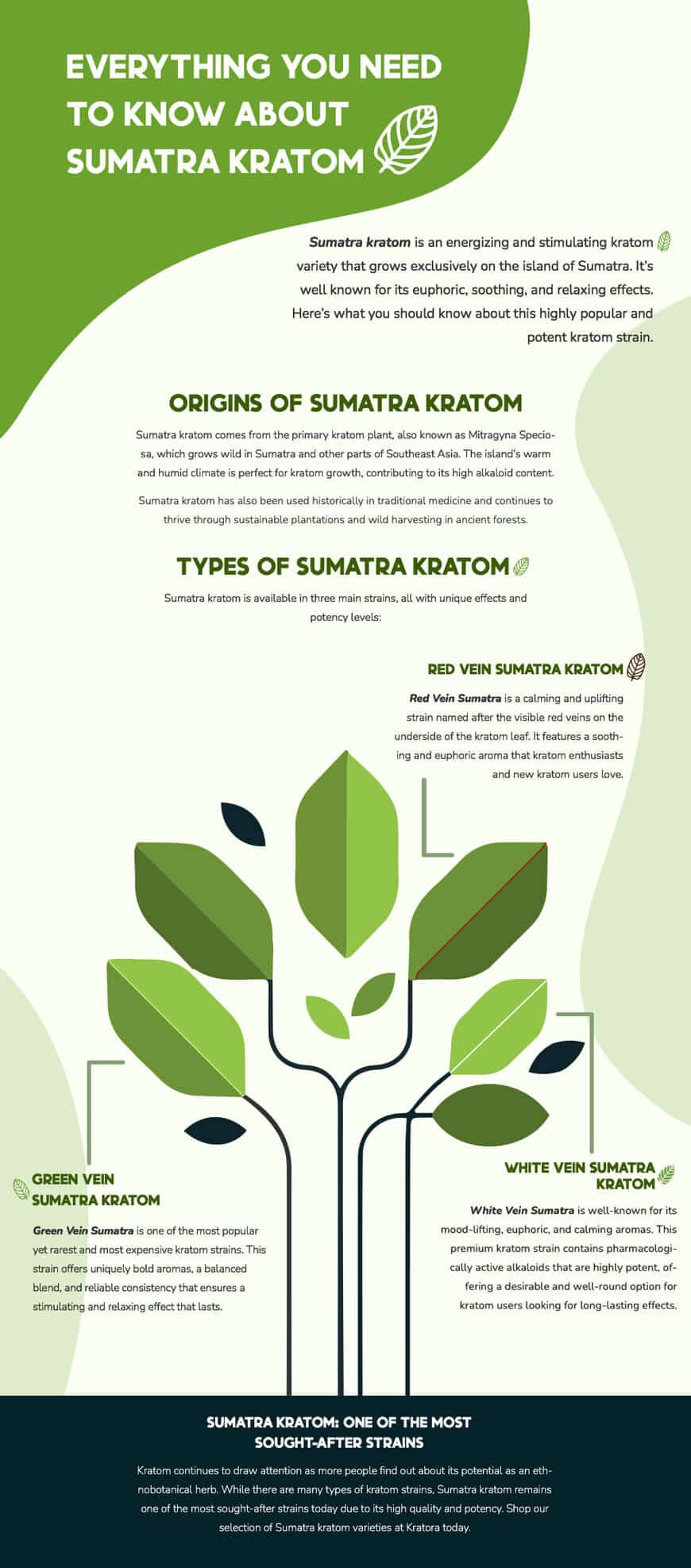 1. Red Vein Sumatra Kratom
Red Vein Sumatra Kratom is sourced from the jungles of Sumatra and is a rare favorite among many kratom enthusiasts and beginners alike. The Red Vein Sumatra is named after the noticeable red veins seen on the backside of Red Sumatra's leaves. The leaves of this specific kratom variety are harvested at peak maturity to ensure maximum potency and Sumatra Kratom effects. The resulting aroma from this strain is relaxing, soothing, and calming. 
The effects of this strain are more noticeable than those of other strains, which makes it a popular choice for ethnobotanical herb users. This strain can also be energizing, uplifting, and doesn't produce the feeling of tiredness associated with other red kratom varieties. Red vein strains have a higher concentration of raubasine — an alkaloid that results in relaxation and relief.
2. Green Vein Sumatra Kratom
Green Vein Sumatra Kratom is one of the rarest and most expensive kratom strains. It is a powerful, uplifting strain that has been used for years to improve mood and clarity. It's one of the most popular strains worldwide due to its balanced blend and bold aromas. It offers an uplifting and energizing aroma that many users find similar to the equally popular White Borneo Kratom. It's also named after the visible green veins that appear on the underside of the kratom leaf.
The Green Vein Sumatra kratom effects are known to be surprisingly consistent even between vendors, making it a popular choice for those who are new to the experience of kratom. It provides a fantastic balance of euphoric, soothing, and relaxing feelings, and it is generally known for being potent. This is because of Sumatra's natural abundance and biodiversity that play a key role in ensuring that the kratom plants that grow there are very healthy.
3. White Vein Sumatra Kratom
White Vein Sumatra Kratom is another popular strain from the biodiverse island of Sumatra. It's often praised for its mood-lifting, soothing, euphoric, and energizing aromas. Due to this, it's considered a perfect choice for daytime use. Like the other Sumatra strains, White Vein Sumatra Kratom has long-lasting effects. Additionally, this premium, mature leaf kratom strain has a more stimulating and uplifting aroma than Red Vein Sumatra. 
It's mainly grown in ancient forests, and its leaves are full of pharmacologically active alkaloids that result in more focused and refreshed effects. This is the perfect kratom strain when it comes to selecting one that offers both ends of the spectrum (relaxing and stimulating) while also maintaining potency. This makes it a particularly desirable kratom strain among seasoned kratom users due to its very well-rounded and strong nature.
Final Thoughts About Sumatra Kratom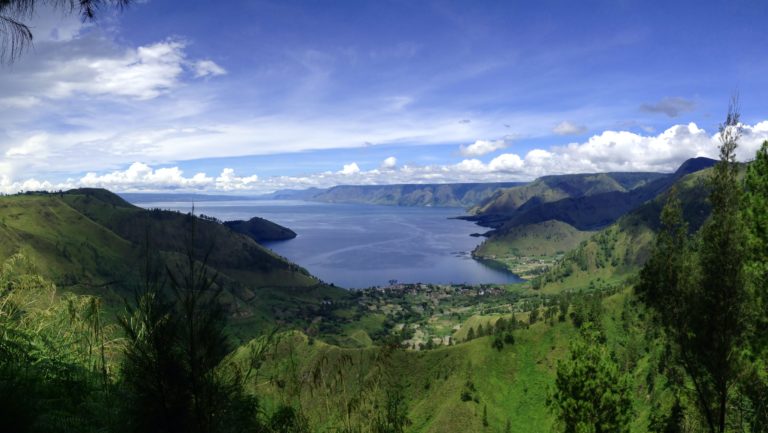 Sumatra kratom effects are slow to come on but powerful when they do. Sumatra kratom's long-lasting effects are not unpleasant and are a welcome change from the high frequency of stimulation that is common with other strains. As kratom continues to gain popularity, it is likely that Sumatra kratom will continue to be one of the more sought-after strains. So long as it continues to be harvested and dried with sustainability in mind, Sumatra effects will continue to be one of the best.
Buy Sumatra Kratom By Vein
Buying kratom from the right vendor matters. At Kratora, we have been providing customers worldwide with naturally-sourced, high-quality kratom and other botanical products since 2013. We aim to be a company you can trust for your all-natural organic kratom needs. Our Sumatra kratom is available in red, green, and white vein varieties, so you can discover your favorite strain and enjoy unique effects today. Our inventory includes kratom powder, liquid kratom, kratom capsules, and kratom variety packs.
No matter your preferred strain, you can be sure that our kratom products are:
Organic and all-natural

Freshly packaged and securely sealed

Ultra-fine ground
We also bring you a wide selection of other remarkable botanicals, including organic kratom alternatives like Akuamma Seeds. Order your Sumatra kratom at Kratora and enjoy an exceptional shopping experience: 
Fast, affordable domestic and international shipping

A comprehensive

Kratora Rewards Program

Same-day shipping on orders submitted before 3 PM EST Monday through Friday and 1 PM EST on Saturdays (excluding holidays).

Accessible and friendly customer service

Free priority shipping on all US orders over $75

Free returns and a full 30-day refund guarantee

2 free samples of your choice with your purchase
Want to learn more about kratom quality and value? Start here:
Why Buying Cheap Kratom Can Be Dangerous