If you're thinking of embarking on a cross-country road trip with a bag of White Maeng Da kratom powder in your suitcase, there are a few things you need to know. In most cases, traveling with kratom is no big deal. But there are a few legal complications you should know about—along with some basic warnings you should heed when traversing the country with any mysterious-looking powder or capsule.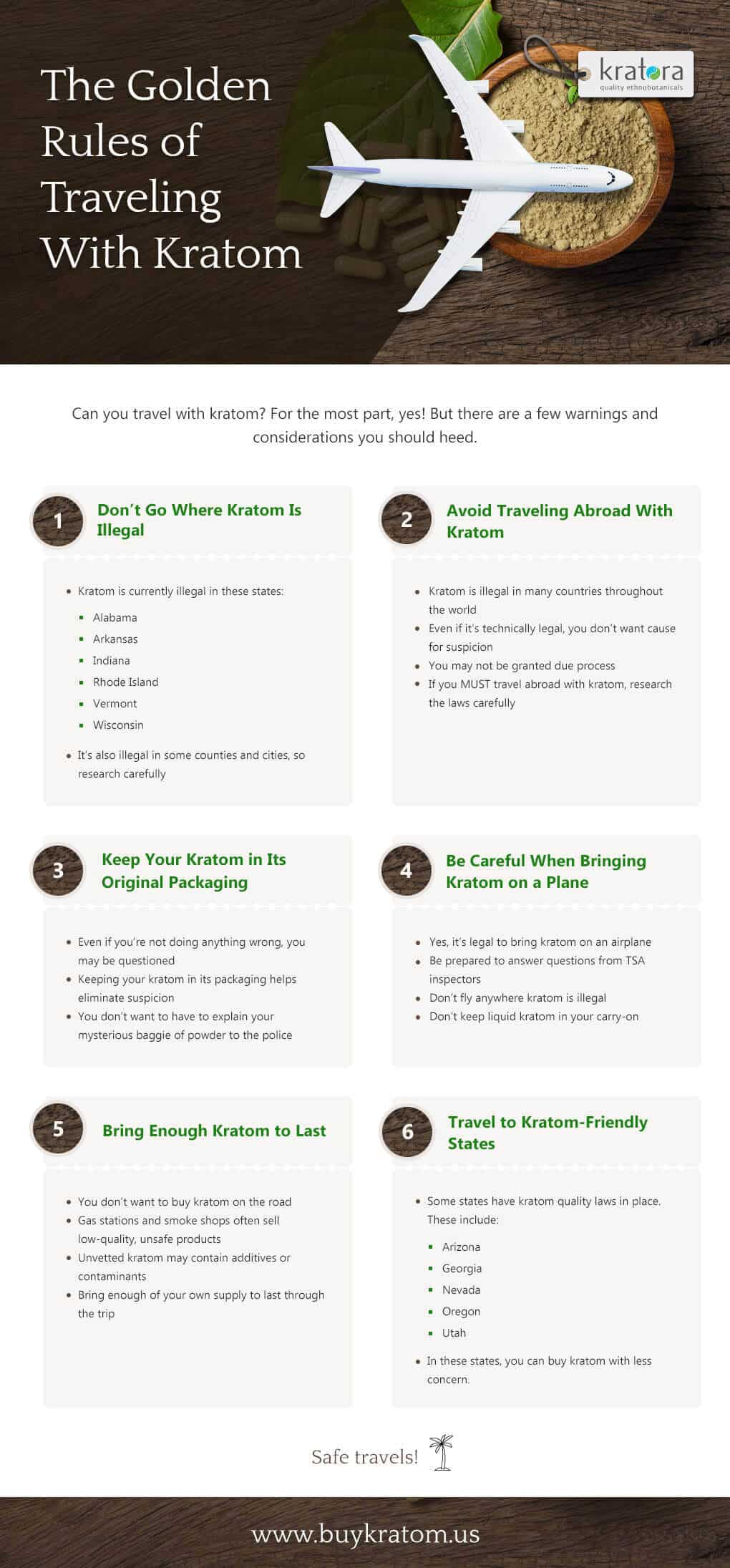 1. Certain States Must Be Avoided 
Kratom is legal at the federal level. That means that interstate commerce is not a problem. You can venture from one state to the next without putting your freedom in jeopardy—for the most part. It's important to note, however, that kratom is restricted or prohibited in a few states. So don't even think about traveling through any of the following states with kratom in your possession: 
Alabama

Arkansas 

Indiana

Rhode Island

Vermont 
Kratom laws are constantly changing, so be sure to check the most current information before you embark on your trip. 
In addition, note that kratom is often restricted at the local level as well. For instance, while kratom is legal in Florida, it's illegal in Sarasota County. If you're caught with it there, you can face a 60-day jail sentence and a $500 fine. So make sure to do your homework if you plan to travel with kratom. While most places are kratom-friendly, there are exceptions, and legal authorities generally won't accept ignorance as an excuse. 
2. International Travel Is Sketchy 
Sometimes the best way to travel with kratom is not to do it at all. When it comes to traveling outside the U.S. with kratom, extra caution is warranted. In fact, it's probably best to avoid it altogether if you can. Kratom is illegal in numerous countries, including Australia, the United Kingdom, much of the European Union, and even in a few countries where kratom grows naturally—like Vietnam. 
And even if you're traveling to a country where kratom is technically legal, you don't want to put yourself in a position where you might be apprehended by police under suspicion of a possible crime. You typically don't have the same rights as you would have in the U.S., so you're essentially at the mercy of local law enforcement—even if you're acting within the law. 
3. When Traveling with Kratom, Keep It in Its Original Packaging 
When traveling with kratom, there's a chance you may be questioned—by police, by TSA representatives, or even by hotel staff. After all, when you travel with a mysterious-looking powder or capsules, people take notice. Just remember, you're not doing anything wrong. So stay calm, and keep the kratom in its original packaging so that there's no uncertainty about what you have on hand. 
4. Yes, You Can Bring Kratom on an Airplane 
Because kratom is not a federally controlled substance, the TSA representatives have no jurisdiction to confiscate it or impose any sort of disciplinary action if you carry it with you. With that said, however, you still have to heed the other tips on this list. So keep it in its original packaging, be prepared to answer questions, and don't bring it into a state or country where you might get into trouble. 
In addition, be sure to follow any TSA guidelines that may come into play. For instance, the TSA imposes certain rules and limitations regarding the presence of liquid in a carry-on bag. All liquids must be stored in travel-sized containers and limited to no more than 3.4 ounces (100 milliliters). The containers must also be placed in liquid bags and are subject to inspection. So if you're traveling with liquid kratom, it's probably best to keep it in your stored luggage. 
5. Be Careful When Buying Kratom on the Road 
You probably already have a favorite place to buy kratom online, but what if you're traveling with kratom and your supply runs low in the middle of Grand Rapids, Michigan? You may be tempted to head to the nearest smoke shop, herbal store, or even gas station to pick up a fresh batch of Green Malay. 
But you have to be extremely careful when buying kratom from unfamiliar sources. Your usual supplier might have high standards of quality, but that doesn't mean the local herbal store kratom will deliver the same premium grade you're accustomed to. Since kratom is unregulated at the federal level, there are a lot of low-quality products on the market with very little accountability. Some products may contain synthetic ingredients or harmful contaminants; some may even be imitation kratom not grown in Southeast Asia. 
So when traveling with kratom, you should bring enough to get you through the journey. And if you do run low, it's best to make an order from your favorite trusted brand—as long as you're in a state that allows it. If you're really in a bind and are considering buying locally, make sure to do your homework. Research the brand; ask if the kratom product comes with a certificate of analysis from an independent laboratory; try to determine where the kratom was grown and under what conditions. The majority of high-quality kratom products are grown in Indonesia and surrounding locations. If you have any doubts about a product, don't buy it. 
6. Travel to Kratom-Friendly States 
While it's true that you generally have to be careful when traveling with kratom, there are a few kratom-friendly states that have taken the initiative to impose quality standards and regulations. The American Kratom Association (AKA) has been tireless in advocating for laws that restrict synthetic, adulterated, and low-quality kratom. They have extended their advocacy to legislators in states across the U.S., and a few states have already adopted the policies developed by the AKA. 
Specifically, the AKA's Kratom Consumer Protection Act has been enacted in the following states: 
Arizona

Georgia 

Oregon

Utah
This type of legislation is also pending or being considered in a few other states, so it's worth following the work of the American Kratom Association and keeping up with their latest developments. In the meantime, if you do travel to any of the above states, you can purchase kratom with a bit more confidence and a bit less caution. 
The Best Way to Travel With Kratom 
There's no best way to travel with kratom. In fact, traveling with kratom is pretty straightforward: Just research the laws where you're traveling, keep your kratom in its original packaging, and avoid buying kratom from unfamiliar vendors on the road (unless you carefully vet them first). As long as you do your due diligence, you shouldn't run into any trouble. Safe travels!
Want to learn more about kratom quality and value? Start here:
Why Buying Cheap Kratom Can Be Dangerous