Oklahoma has some very unique laws on the books. For instance, did you know that it's illegal to trip a pallbearer in Oklahoma City? It's also illegal to host horse-tripping events in the state (apparently this needed to be codified into law). But what does the law have to say about kratom in Oklahoma?
Before you stock up on kratom products as a resident of—or visitor to—the Sooner State, there are a few basic things to know.
Is Kratom Legal in Oklahoma?
As of 2023, kratom is legal in Oklahoma. There are some Oklahoma kratom laws in effect, but they pertain primarily to regulation. It's fully legal to purchase, possess, sell, and manufacture kratom in Oklahoma, and it's unlikely that this will change in the foreseeable future.
For legal and practical purposes, kratom is defined as any unadulterated product derived or extracted from the Mitragyna Speciosa evergreen tree native to Southeast Asia. There are some synthetic (lab-made) kratom products on the market, but these are prohibited in Oklahoma. Only all-natural kratom can be sold.
Current Oklahoma Kratom Laws
The history of kratom in Oklahoma can get a bit confusing. Back in 2014, the Oklahoma Bureau of Narcotics tried to ban kratom statewide by adding mitragynine and 7-hydroxymitragynine (kratom's main alkaloids) to the state's list of controlled substances. The bill did pass, but the kratom alkaloids were removed from the final version of the text, meaning that kratom would remain legal in the state. The bill's alteration came in response to protests and petitions from kratom advocates.
In 2020, state legislators introduced a bill (House Bill 2846) that would bring the Kratom Consumer Protection Act (KCPA) to Oklahoma. The KCPA is a comprehensive set of regulations intended to promote safe kratom while keeping bad kratom products out of the marketplace. The guidelines were developed by the American Kratom Association and have been enacted in several states—notably Arizona, Nevada, Georgia, and Utah.
The Oklahoma bill died in committee after being referred to the state Senate and Health and Human Services Committee, but advocates and state legislators pressed on. In 2021, a second bill was introduced (HB 1784), which contained most of the same stipulations as the first bill. This time, the KCPA was approved by both the House and Senate and signed into law by Gov. Kevin Stitt on May 24, 2021. As a result, kratom in Oklahoma is now tightly regulated for safety and quality.
Specific Regulations for Kratom in Oklahoma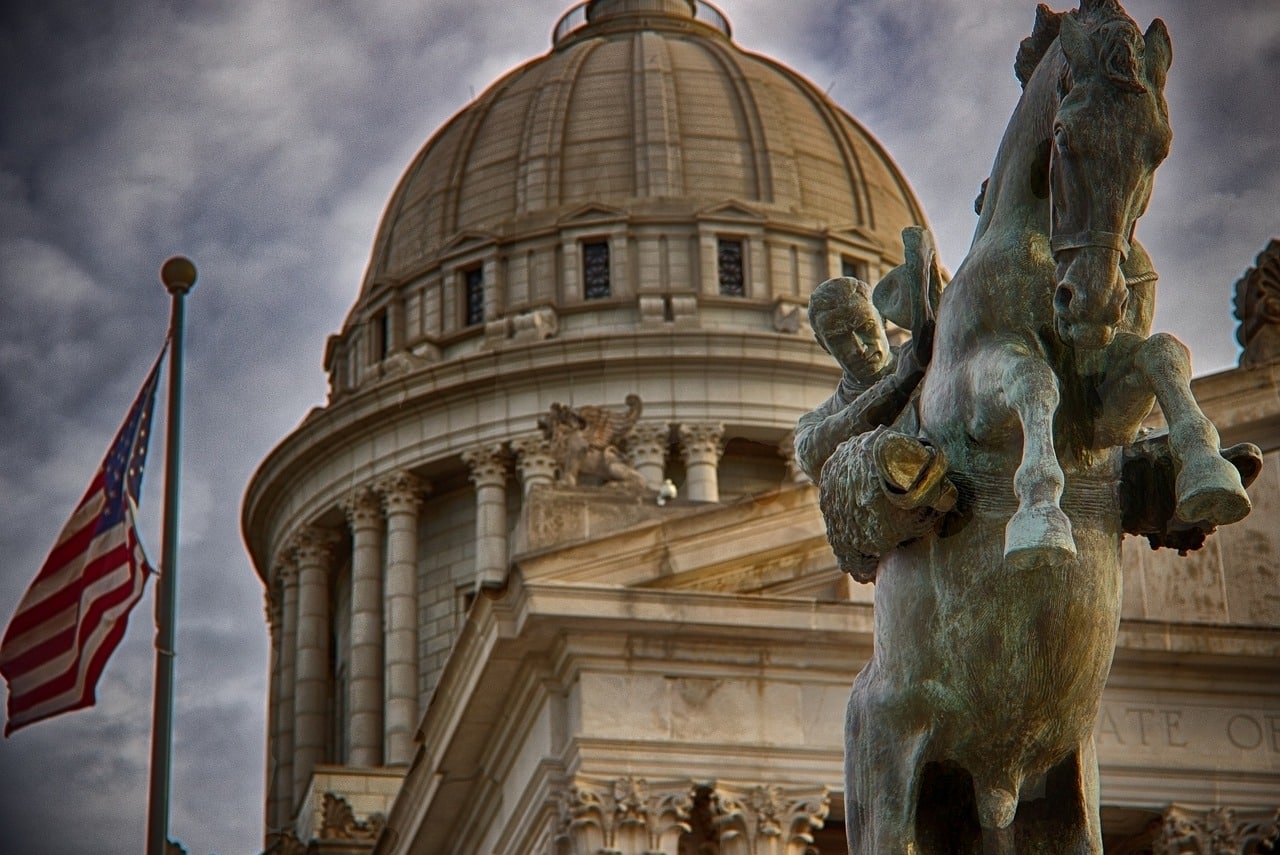 Though the KCPA has been enacted in several states, the stipulations can vary from one state to the next. Some states impose little more than an age restriction while other states include a laundry list of regulatory requirements.
The specifics of the Oklahoma Kratom Consumer Protection Act are outlined in the 2022 Oklahoma Statutes, Title 63. They include the following Oklahoma kratom laws:
Kratom products cannot be adulterated with non-kratom substances.
Vendors and manufacturers cannot sell contaminated products (which means that third-party lab testing is essentially a requirement for businesses that want to avoid costly liability).
Kratom products cannot contain more than 2% of the alkaloid 7-hydroxymitragynine (as a percentage of the total alkaloid concentration).
Synthetic alkaloids are strictly off limits. This law also applies to natural kratom that is adulterated with synthetic alkaloids.
Vendors must follow strict labeling requirements. For instance, labels must disclose the total amount of mitragynine and 7-hydroxymitragynine (kratom's two primary alkaloids). Labels must also include transparent manufacturer information and suggested use information.
Kratom in Oklahoma cannot be sold to persons under 18 years of age.
The goal of these Oklahoma kratom laws is to minimize if not eliminate the likelihood of adverse reactions resulting from kratom. Synthetic, adulterated, and contaminated kratom products are extremely dangerous, which is why it's so important to research products carefully and purchase natural products from trusted distributors.
By enacting most of the core stipulations of the Kratom Consumer Protection Act, Oklahoma legislators have taken important steps to keep bad kratom out of stores.
What to Know When Buying Kratom in Oklahoma
The enactment of the Kratom Consumer Protection Act is good news for Oklahomans, but it's still important to be an informed shopper. When buying kratom in Oklahoma, keep the following in mind:
Make sure that the product is lab-tested. Although manufacturers and vendors are legally prohibited from selling contaminated kratom, it's still largely at their discretion whether or not to subject their products to comprehensive lab testing. The best manufacturers subject every batch to lab testing. Don't leave your safety to chance.
Lab testing should be independent. Be wary of companies that do their own in-house testing. This is a huge conflict of interest. All tests should be conducted by a reputable third-party laboratory with no direct interest in the kratom manufacturer.
It's still best to buy online. Though you can find kratom in convenience stores and nutrition stores all over the state, it's still best to buy kratom online. This allows you to read consumer reviews, compare products, access a wider array of strains and vein colors, and see lab results. It also affords you access to lower-priced kratom since there are fewer middlemen.
And, whether you buy your kratom in Oklahoma or anywhere else, make sure that the product is all-natural, Southeast Asian-grown, and sourced from a trusted manufacturer.
Shop for Kratom at Kratora
Is kratom legal in Oklahoma? Yes! And you can order high-quality, all-natural kratom at Kratora. We've been in the business since 2013, and our partner farms are among the best in Southeast Asia. In addition, all of our kratom is lab-tested and available at a great price. Shop the hottest strains including Maeng Da, Malay kratom, Thai kratom, and more.
Thanks to the passage of the Kratom Consumer Protection Act, Oklahoma is one of the best places in the nation to buy kratom. Find all your favorite strains at Kratora!
Want to learn more about kratom quality and value? Start here:
Why Buying Cheap Kratom Can Be Dangerous